Best Rotten Boat Transom Repair DIY HowTo
Boat Transom Repair Project
For Sale: blue john boat – $500
Late 70's model , skiff, 16 ft, with trailer, fiberglass, no motor, solid boat, Humminbird fish finder
Well, this was somewhat true, it was blue. It was actually an early 70's model with 10 coats of blue copper paint, not so solid transom, and really crappy trailer. All was good because in the end I only paid $100 for her. When I brought the skiff home my wife said, "you sure like buying junk don't you". What could I say, it was cheap.
I already had a bigger boat that I was working on and I was thinking these bigger boats are too much work! I better get something smaller like a skiff to work on. This would turn out to be another mistake in a long list of boating mistakes. It is not bad if you have years to work on it. If you are in a hurry, you are making a big miscalculation.
There is nothing quick about rebuilding a boat. And I read this when I began my boating life. It was from an article by a seasoned boat appraiser. He said, "if you think your going to buy a fixer upper and everything is going to be fine, then you are crazy". How true this turned out to be.
Even though I rebuilt the entire boat, for this article we will cover the basic steps in a rotten transom rebuild process:
Step 1: Prep Work
Step 2: The Transom Rebuild Planning
Step 3: Removal of the Old Rotted Plywood Core
Step 4: Install a New Transom Core
Step 5: Tab Transom Edge to the Hull
Step 6: Laminate the Transom
Step 7: Mount the Motor
Step 1: Rotten Transom Prep Work
I had already planned on redoing the transom, that was a no-brainer. I decided right away I would not be using wood again. However, the further along I got the more concerned I got. This was turning into a bigger job than I really wanted to be involved with.  Yes, it would have been cheaper but I was going for a 100% no wood skiff that would last a lifetime so I chose to go with a polyester resin called Seacast™. I had done all my research on the product and felt it was perfect for this small transom. And as such I had long ago done my calculations for the material which is sold in 5 and 2.5 gallon buckets. Prior to placing the order I wisely double checked my calculations and found I had indeed made a big mistake. I had incorrectly calculated for twice the material I really needed. The good news is it would now be half the price I had planned for;  always double check your calculations!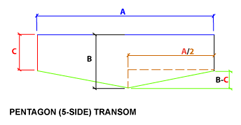 Step 2: The Transom Rebuild Forms
The old inside transom skin came off nicely due in part I think to the years of piss ants crawling through the wood of the transom. The ants are what tipped me off initially to the fact that the wood was mostly rotted. The bad news was that once the skin was off I could see the real nature of the situation, the plywood was totally rotten.
I assume the seller had pulled the oldest trick in the sale of a boat that has a bad transom. Let the transom dry out totally before showing it so that the transom knock test sounds solid. I have read stories of people putting the vessel in dry storage for a year before making the con. The wood was still glued pretty tight on the outside skin of the hull so no luck there as I would have to remove it the hard way. Next step, chain saw or some people like to use a long drill bit.
Tip: if you are thinking of buying a used boat for a large amount of money, you need a professional marine survey of the vessel in question. My opinion is anyone selling a boat is selling it for a reason and they are not sharing with you what that reason is. Almost nobody sells a good boat unless they are at the age that they can no longer fish or boat.
Step 3: Removal of Rotted Plywood Transom
You may have noticed the original transom was for a short shaft motor. My plan was to make the new transom for a long shaft. The reason for this is clear to me, the Ocean. I live by the sea and a short skiff transom does not instill confidence in my mind; I will need a tall transom. This would turn out to be a wise choice. Anyway, the chainsaw did not work as well as I had hoped, so I was left with more manual labor ahead.
Step 4: Install a New Synthetic Boat Transom Core
So, here I have dry fitted the form and bracing. It is actually looking and fitting pretty good at this point and I am feeling strong. I planned to use modeling clay to seal the edges of the form to prevent any Sea Cast from leaking out. I purchased the clay from the educational store for kids. I would also be needing a 1 inch power drill in order to mix the resin as recommended by Sea Cast. Like a dummy I used a ½ inch drill instead and this would prove to be a mistake. When they say a 1 inch drill, trust me you need a 1 inch drill to mix Sea Cast. So I had everything I could think of for the pour and then it happened; The order came in.
I had to start the pour early due to the temperature requirements of Sea Cast. This stuff heats up when it cures so it cant be over 75 degrees when you do the mix and pour.
It was really now or never because soon it would be too hot even in the mornings to pour Sea Cast outside. Even at night it would be to hot. This is it, so I spent the previous evening prepping the form and sealing the edges with clay and duct taping everything in place. Made the form for the top of the transom where we were doing the long shaft conversion.
Got all the power cords setup etc. Everything was ready to go. As if on que my buddy Gator showed up the next morning at 0630 out of the blue. I don't even remember calling him, in fact he lived 2 states away and just showed up. This was the second miracle of the project. Then while we were mixing the "stuff" Pops comes around the corner to see whats going on, Wow!
Step 5: Tab the New Transom Core to the Boat Hull
I am skipping past a lot of work that went on in the meantime but now we go to the tabbing in of the new transom. Due to the fact that I left a 1″ lip on the inside of the transom and the fact that SeaCast is a liquid when poured which becomes a rock hard solid when dry, tabbing in is not as complicated as would otherwise be needed. I took the the tab areas down to raw fiberglass as much as I could but there was a little paint left in some areas. Tabbing the transom to the boat hull basically consists of glassing in some 4″ fiberglass woven roving tape along the edges. I can tell you now that it has not been a problem for this build.
Step 6: Laminate the Boat Transom Repair Inside Skin
Here is a shot of my final boat transom repair process. Wisely, I had saved all my SeaCast dust which I mixed into a polyester filler which went on like butter. Here you can see my final transom cap as mentioned in the SeaCast instructions. I think it turned out pretty good for my first time. I can tell you years later that this transom is still the strongest I have ever seen. This SeaCast is no joke!
Step 7: Finishing Up the Boat Transom Rebuild Process
I used the Crouch formula to select the engine size which was dead on point. I am hitting just about 30 mph, and I will say that is about as fast as I wish to go in a skiff this size.
For a reasonably shallow dead rise, this equation will get you close to WOT, assuming correct prop and rigging.
WOT (mph) = the square root of: (HP divided by weight (pounds)) times 175.
For example:
16′ Dory (470lbs) two people = appx. 800 lbs 20 hp
20hp/800lbs = .025
sqrt of .025 = 0.15811388300841897
0.15811388300841897*200 = 31.62 mph WOT
or
speed(knots) = C/(sqrt(weight/shaft hp))
where
C=drag coefficient
150 for heavy hulls
170 for average cruisers
190 for faster hulls (lighter center consoles)
210 for racing cats
Below are some additional SeaCast Transom calculators for you which can also be found on the SeaCast site. You can do it! If doing a larger transom I suggest looking into a vacuum transom pour, look it up!
{boat transom: accessories, adapter, angle, arch, area, art, artwork, assembly, bar, bench, board, boarding, boat, bolts, boot, brace, bracket, brass, broke, bung, camera, cap, calculation, caulk, clamps, construction, corner, cost, cover, cracks, definition, designs, desk, dimensions, door, drain, drill, elevator, end, engine, epoxy, exhaust, extender, extension, eyes, failure, fenders, fiberglass, filler, fin, fittings, flex, floats, foam, gas, gate, gelcoat, glue, graphics, grommets, handles, hardware, height, hinges, hole, hooks, ideas, images, inboard, inspection, installation, issues, jack, knee, ladder, launching, leak, LED, length, lettering, lifts, lights, location, material, meaning, measurement, modifications, molding, motor, moulding, mounting, mounts, names, notched, number, oil, over, outboard, pad, paint, parts, picture, plate, platform, plug, plywood, pods, problems, rails, rebuild, reinforcement, repair, replacement, riser, rod, rot, rotten, rubber, saver, scuppers, seacast, serial, setup, shaft, shapes, shower, sizes, soft, splash, steps, straps, support, table, test, thickness, tie, transducer, trim, types, underwater, upgrade, vents, wall, wedge, well, wheels, width, wire, wood, wrap}
Save
Save
Save
Save
Save
Save
Save
Save
Save
Save
Save
Save
Save
Save
Save
Save
Save
Save
Save
Save
Save
Save
Save
Save
Save
Save
Save
Save
Save
Save
Save